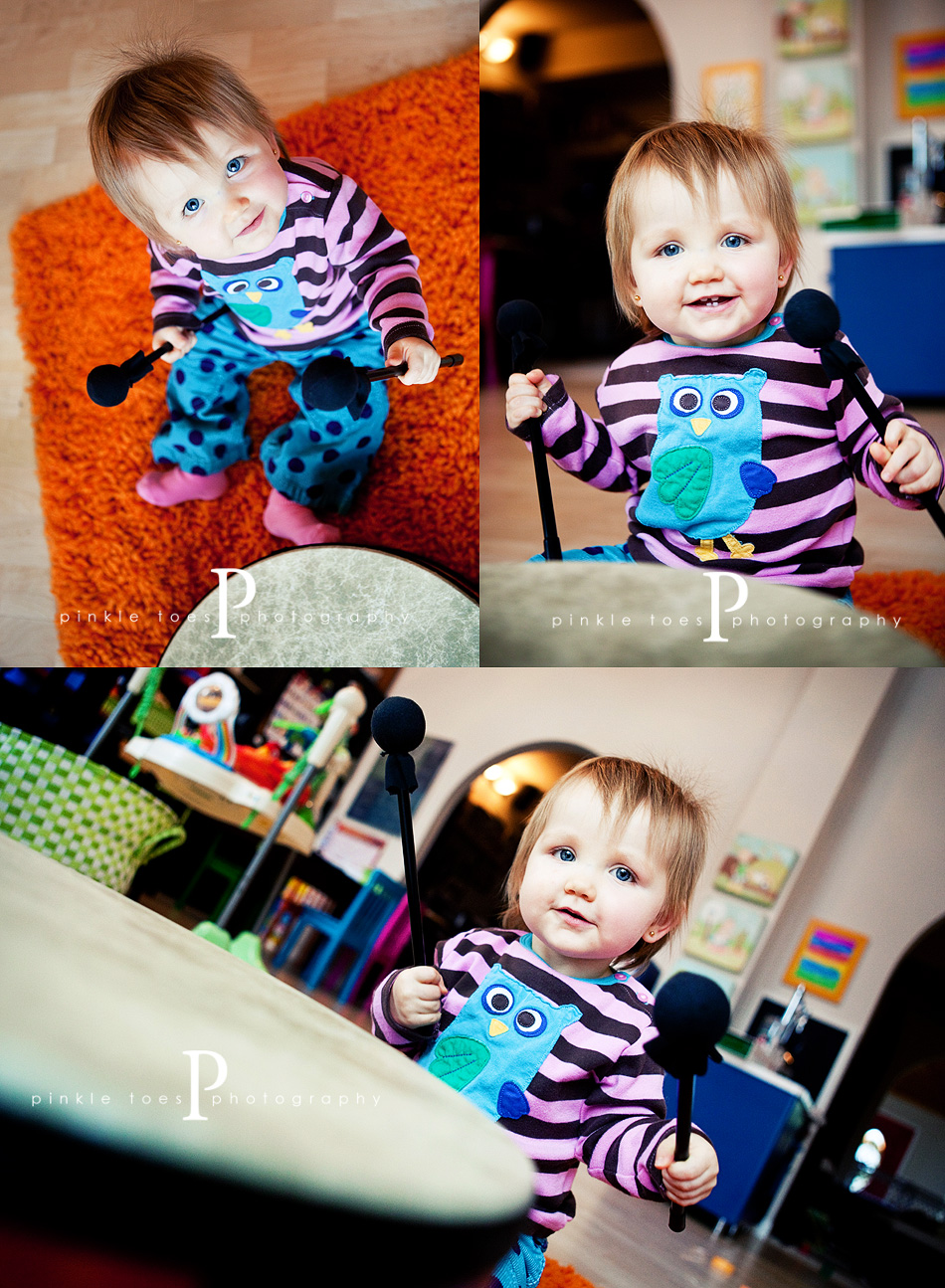 [Note: This is long, but I encourage my clients to read through to the end for a special offer! – scroll down to see who won!]
I love music. All kinds. It's universal. It's fun. It feels good. It unites. It relaxes. It moves you in every sense of the word.
For the past several months, I've had the privilege of taking my baby girl to Heartsong Music and I have loved every minute of it. And so has she. It has been an incredible experience to have that one hour dedicated to just the two of us, singing together. I love that she moves along and claps to the beat of any song now. I love that she rests her head on my shoulder when we sing lullabies in class (and I, of course, tear up). And that she points to the drum with such emphasis that I'm sure she might burst with excitement. Or that one of her first words was "guitar" or close to it (right, Michelle?). But what has really surprised me has been during those beautiful moments in class when I look around at all the other moms, dads, nannies, grannies, aunties, etc. that have been brave enough to open their minds and voices and I realize that we're all harmonizing. Music…together.
Tomorrow, we'll have our last class of the semester and I'm very sad to see it come to an end. But the good news is that just means we're a little closer to next semester when all three of my children will be enrolled. Yes. It's that good. And I strongly encourage all moms and dads and anyone who works with children to consider signing up for a semester, too. Just to see what all the fuss is about. I've seen the bonds that exist between my clients and their children, and I can assure you that an experience like this will help you connect with your child like you might never have imagined.
One of the best parts of class has been our wonderful teacher, Michelle Jamail. Warm, funny, sunny, energetic, friendly, patient, talented, and with an incredible voice, Michelle (and the rest of the Heartsong teachers) has made the experience something I look forward to every week. Michelle gets so enthusiastic when she speaks in class about the power of music and movement on early childhood development, I decided to invite her to "speak" on here to you:
Can you give us a little bio/musical background?

Music has always been a part of my life and I have been singing since I was a little girl. I owe most of that to my Dad and his family who were always making music together. Whether it be in the car to an 8-track tape or at our camp in Vermont, melodies and harmonies were the norm. I started singing in choirs as soon as I could and continued throughout high school. After that I became more of a consumer of music, rather than a maker of music, but all that changed when I found Music Together. I am now singing, playing the guitar and even writing my own songs! I put out a CD, Places in My Heart, in February and am a certified Music Together teacher.

How did you get involved with Heartsong?

I started taking Music Together classes because of my middle son, Jason. I was so thrilled to find a program that allowed me to sing and dance with my child! I was excited every week to go to class and I would even listen to the CD when Jason wasn't in the car. Carey Youngblood, our teacher at the time and owner of Heartsong, noticed my enthusiasm and asked me if I would take the Music Together training and come teach with her. I hadn't every really imagined myself being a music teacher, but I decided to give it a try. That was in 2005 and I have been teaching at Heartsong ever since.

What are the benefits of a program like Music Together?

Music Together has so many benefits. The biggest, of course, is the strong musical foundation that you are giving to your child. Every child is born musical and therefore, every child can learn to sing in tune and march to a beat – we call this Basic Music Competence (BMC). When you are involved with your child musically in a Music Together class or at home, you are supporting their journey towards BMC.

Another wonderful benefit is the opportunity for connecting with your child in a fun, loving and meaningful way. When my boys were young, I often felt challenged to find new ways of interacting with them. Music Together gave me so many ideas! It is such an inspiring program and this is confirmed to me every week when I hear the stories of how families are connecting through music. It is music to my ears!

Adult interaction and camaraderie are yet another added benefit for the moms, dads, and caregivers that come to class. It is important to me that we build a musical community in class, and there is a lot of sharing through song, dance and laughter. Most of my families have relayed to me how good they feel after class. There is a physiological reason for this. Singing in a group causes your body to release endorphines, the "feel good" chemical in your brain. You get a "singer's high"!

There are also social, emotional, physical, cognitive and language benefits for your child when taking Music Together. It is important to note that Music Together is a research-based music program. These benefits were documented in a recent study at Music Together's preschool program in Bridgeport, CT.

What would you say to parents who are afraid to sing or feel like they can't sing?

Well, that happens a lot, so I would say that they are in good company. The whole reason there was a need for a program like Music Together is because people just aren't singing at home anymore. We have become a society of music consumers rather than music makers. We have deemed only a chosen few to be worthy of singing in public, and the rest of us get to pay to listen. For this reason, most grown-ups come to class without ever having sung in public and many feel shy or awkward about it all. We are here to help bring music back into our homes. Music Together helps parents and caregiver's become more confident and skilled with their singing and dancing. Why is this important? Because YOU are your child's most important music teacher! Your singing and dancing are crucial to your child's musical development. So what do I say to the hesitant parent? There is GOOD news! Your skill is not what matters, it is only your disposition or attitude around music making that is important. If you are excited about singing and dancing your child will be too, especially when it is part of their daily experience. This excitement will fuel their desire to want to learn how to make music for themselves. Once that desire is ignited, stand back and watch them go! Just think about your child and language. They are born into a world of language and learn very quickly that it is an important skill to have. After all, everyone in their life that they love talks a lot. Talking is a part of their daily experience and pretty soon they are talking too! The same with music. We expose our children to music and music making as much as possible and give them lots of room for exploration and experimentation. We show them that it is fun and a part of everyday life. The rest will unfold organically. So you don't have to be an expert to sing and dance…just have fun! Music Together offers a loving and accepting environment for you and your child. It is a great place for you to find your voice and improve your rhythm. It is all about participation, NOT perfection or performance!

What are some simple ways to incorporate music in the home?

I find that the best time of the day to start singing with your child is at bed time. Lullabies are so connecting and so soothing. You can also use singing and dancing to help with transitions – sing and march to the car, make bath time a musical, brush teeth to a tune! Songs and chants are great for the changing table, as well. Children just do not want to sit still while you are trying to tidy them up, but try singing to them or using a nursery rhyme chant. It really works! Also, don't be afraid to put on a favorite song of yours, crank up the volume and dance or sing! Let your child see you really enjoying yourself!

Care to share a funny story?

Lots of funny things happen in class, but the things that are the most amusing to me are the sweet babies' bodily noises that happen right on the beat or the child that has the same answer to every question I ask. What kind of animal should we be? Cow. What should we pick up on our train? Cow. What's your favorite food? Cow. What other body part should we wiggle? Cow. So cute! I also had a little boy bring me to tears one day during the play along because I was laughing so hard. The play along is a time when we put out many different instruments, and the children and grown-ups jam together. On this day, the little boy picked out a guiro shaped like a bottle. About a minute into the song, I noticed him walking around pretending to drink out of the guiro and saying "beer, beer, beer!" He was just beginning to talk, but had obviously mastered that word. We were all laughing so hard and, of course, the mom's face was beet red. I will never forget that class, and I am sure that is a story which will be told in his family for a long time.

Care to share a success story?

Anytime I hear of a family making music together at home, I consider it a success. And when I hear of families using their songbook at home, that is a HUGE success! This is an inside joke with my families. :) More specifically, parents are always sharing with me how their children are constantly singing or dancing to music. This program really meets the children's musical needs. I have watched many children go from barely sitting up to dancing to a beat and from cooing to singing melodies!

On a personal note, both my younger boys have been through the program at Heartsong and are now getting Music Together at their Montessori school. It is such a joy to be able to sing with them (in tune!) and to watch them dance.

Anything else you want to add?

Thanks for having me on your blog. I want to encourage any parents with children 0-5 to come sing and dance with us at Heartsong. We are having many free demos at Heartsong and at other locations around town starting on Monday, December 14. Please go to Heartsongmusictogether.com to learn more about the demo schedule and about us!

Music Together believes that being able to sing in tune and march to a beat is a birthright for everyone…just like walking and talking. I know from my own experience that music is a beautiful way to connect with your child and to connect your child to the world around them. I hope that you are able to take something from what you have read today and incorporate it into your daily life. Whatever you do…sing, dance and have fun!

I wish all of you a happy holidays!
I'm not typically one to do a lot of "sales pitching," but when I see or experience something that like this, I feel obligated to share. What child wouldn't benefit? What parent wouldn't benefit? What teacher or child caregiver wouldn't benefit? (I can't tell you how many times I've used these songs to engage children at my sessions).
Now for the special offer part: Carey at Heartsong was kind enough to give us a $50 gift certificate for me to give away! So, if you are a client who has booked a session with me (even if we haven't had the session yet), please comment on here with name of your favorite song and I will enter you in a random drawing to win the $50 Heartsong gift certificate (be sure to leave your e-mail address in the form or I can't contact you…don't worry, I'm the only one who can see it)! Winner will be chosen Dec. 15th.
———-
Updated 12/16 – Congrats to Amy for winning the $50 Heartsong gift certificate! You have this site to thank for randomly picking your number ;-) ENJOY your classes!!!