Over the last 4 years, I have come to realize that I am the perfect parent. I don't know how I got to be so lucky, but I have yet to make a single parenting mistake in the raising of my two perfect angels.
So, in the spirit of giving back, I thought I would impart some of my inherent parenting wisdom on any less fortunate parents out there. If I can help just one parent, then my job will be done.
The following lessons were learned in just the past 24 hours. [Yes, even I amaze myself at my super parenting skills.]
Lesson #1: The children are never to be considered "tucked in" until eyes are closed and you can hear snoring.
So, we "tucked in" the kiddos last night (went through the whole bedtime routine) and retired downstairs to catch up on some work. We felt perfectly safe and secure that our angels were resting peacefully upstairs until a loud *THUD* followed by a heart-wrenching cry rang through the house. I raced upstairs to see what had happened. Hubby was already there and from the look on his face, I was terrified to look at my little T who was sobbing on the bed. Finally, I took a glace, just long enough to see the HUGE, golf ball-sized purple knot forming on his forehead. I started to cry and left the room to get ice. (Note to self: I wouldn't count on me to be the calm one in a true emergency situation–I don't know what it is, but seeing your child hurt is utterly terrifying.)
Well, I thought I was being brilliant by forming neat little ice pack out of frozen blueberries. While it worked well and did the trick at bringing down the swelling, I didn't realize at the time it would lead to Lesson #2.
Everything turned out to be okay. He was apparently jumping into his bed when he lost his footing and hit is head on the dresser. He's darn lucky he didn't hit his eye or nose or knock out a tooth. There was still evidence of the injury today, as seen in Exhibit A, below (see faint purple outline on left side of forehead):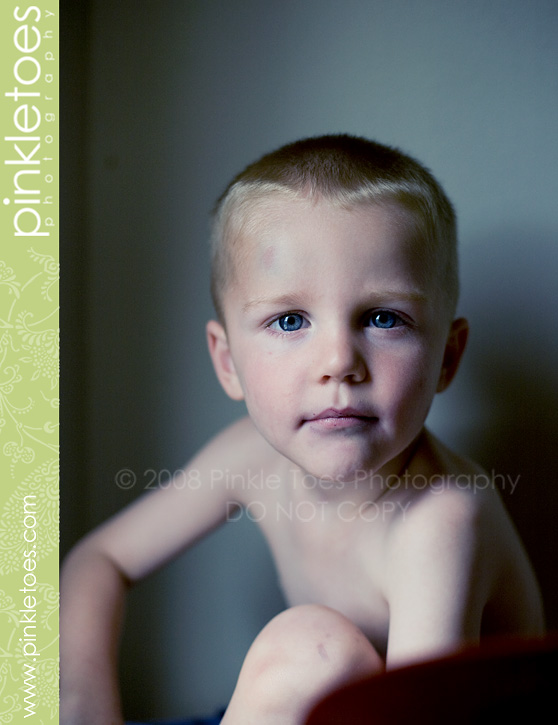 My son's fixation, however, on what would happen to the bag of frozen blueberries after we were done using them as an ice pack leads us to my 2nd shining moment as a parent.
Lesson #2: A child never forgets.
So, after we were sure there was no need to rush him to the ER, we put the kids back to bed (it's after 11:00 p.m. now) and I threw the bag of somewhat frozen blueberries back into the freezer in case we needed them again.
I forgot about them. T did not.
In the morning, hubby and I were awakened by the grinning, blueberry stained mouth of our youngest. Great. They found the blueberries. But as we walked downstairs into the kitchen, the blue handprints on the wall (see Exhibit B below), should have tipped us off that it was only the beginning of a very, very, very bad thing.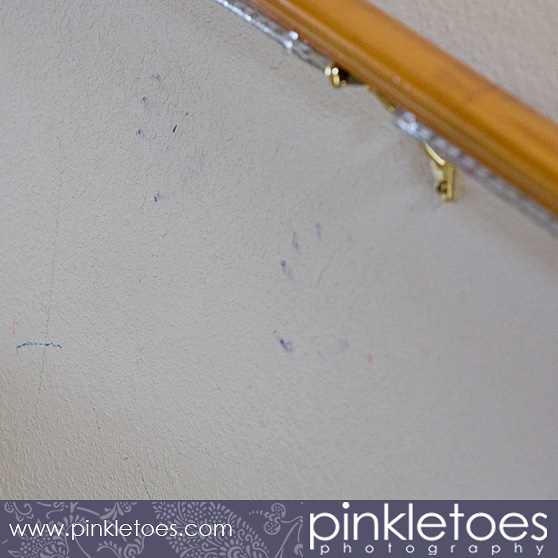 I wish I had thought to take a picture of the state of our living room carpet, but hubs and I were too upset. The boys had literally turned it into a war zone, using melting blueberries as ammo. They had blueberries on their faces, on their feet, the once white carpet was polka-dotted with purple and blue, and there were blue handprints and footprints everywhere. It was like some sort of freaky, fruity horror film.
We all got to work on trying to get the stains out of the carpet…a frustrating task to say the least. Hubs finally gave up and decided to make breakfast.  He tossed some bagels into the toaster, which leads us to…
Lesson #3: Never, ever, ever, ever, ever put an iPod in the toaster.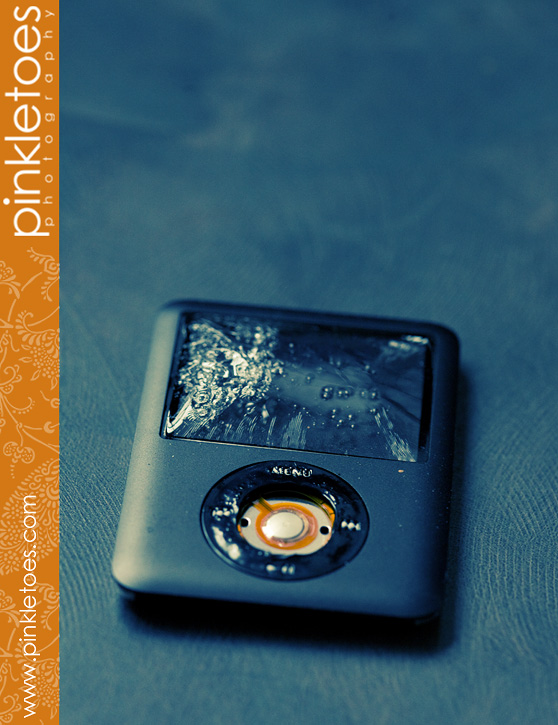 Yeah.  No kidding.  Those things really should come with warning labels or something to notify parents that iPods are not toaster-safe.
To be honest, I can't for sure blame the kids for this one as being the genius parent that I am, as I ever-so carefully stored the iPod on the wood shelf pictured below…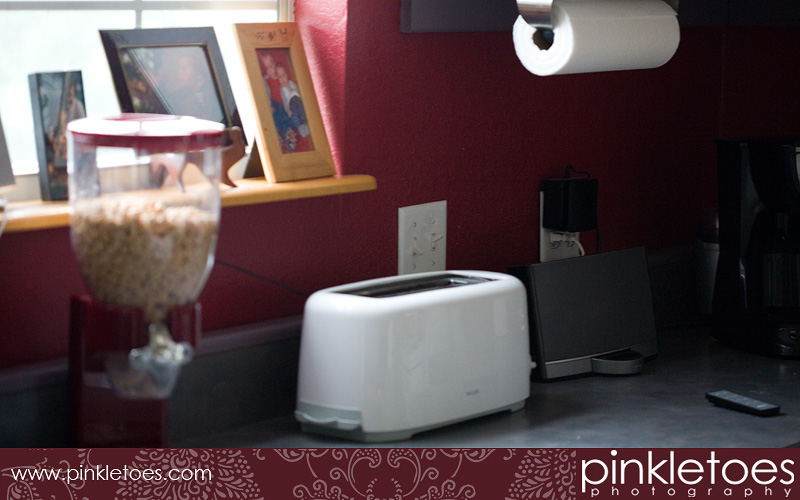 …which happens to be directly above the toaster.
I know. 
You might want to jot that one down.
Needless to say, the iPod is toast.
Well, I hope I was able to enlighten you all a bit on what it's like to be such an outstanding parent.  Lord knows, I'm only going to get better when #3 arrives, so watch out world!